Dry machining – can it replace MWF?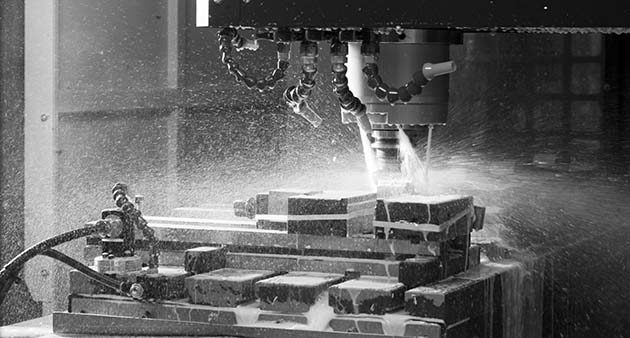 Metalworking fluid is expensive throughout its life cycle, and can also, if handled wrong, create a dangerous work environment. Therefore, the discussion about dry machining is raising from time to time.
The application of coolant lowers the cutting zone temperature and reduces the thermal load on the tool (cooling), keep it clean and provide corrosion protection for the machine and the workpiece. It also reduces the friction (and therefore reduce tool wear), carries away chips /metal dust/pollution and improves machining accuracy. It can also increase productivity when the liquid is applied in high pressure (HPC) (> 80 bar) through channels in the tool directed exactly into the cutting zone, changing the cutting shear plane angle and creating short manageable chips.
But metalworking fluid also has its disadvantages. It is expensive to purchase, manage and dispose. The total cost for disposal exceeds in many cases purchasing costs, and the disposal costs increases. When process fluid is handled wrong it can create a dangerous work environment. Bacteria outbreak in the fluid or overdosing of hazardous components can lead to breathing difficulties, allergic reactions and sensitive individuals' risks poisoning and infections. If bacterial outbreaks is handled by adding certain biocides, the operator also risk asthma, sensitization, infertility or cancer.
When can dry machining be used?
Dry machining can work well in applications where the tool only makes intermittent intervention in the material (interrupted cutting) such as milling. If coolant are used it can be subjected to cyclic thermal stress when it is cooled down and heated up thousands of times each second. In dry machining the tool temperature will vary within a relatively narrow range that will not lead to thermal shock.
There are materials like titanium and high-temperature super alloys, austenitic and duplex (austenitic-ferritic) stainless steels, or even special-purpose alloyed hard cast iron, where friction and heat generation are considerable and where dry machining is very difficult to apply. The cutting forces and heat generation becomes so extreme that the tools breaks.
Minimum Quantity Lubrication
A middle way is MQL (Minimum Quantity Lubrication) where oil mist is applied by compressed air into the cutting zone. A development of this is cryogenic-lubrication, where liquid nitrogen or CO2 are used to remove heat from the cutting zone.
Some uncertainty exists around the MQL. The risks of nano-particles, gases and residues of pyrolysis from the oils are relatively unexplored. REACH are processing the registration for the field "spraying" and it will be completed by 31st of May 2018.
So, is metalworking possible without MWF?
There is no general answer if dry machining can substitute process fluid while maintaining overall performance, it depends on the specific application (a workpiece material, operation, etc.) and available machining tools.
If dry processing worked, we would save both money and environment.
Finer tolerances and higher demands on an even temperature in the manufacturing talks against both dry processing and MQL, and overshadowing the advantages you get from avoiding the handling of process fluid.
Whether you succeed in the future depends mainly on new, easily worked material and increasingly innovative insert coatings from the tool manufacturers. Your tool supplier probably know more about the latest innovations.
The trend globally
New manufacturing techniques, new technologies and new materials will in some industries replace process fluid. Still, the global production of process fluid is predicted to rise. About 2.5 million tonnes process fluid are produced today and in three years, global production will increase to about 2.8 million tonnes. Development takes place mainly in Asia, which accounts for 40% of consumption. The next 5-10 years, the largest increase will be in the transport sector.
Read more about global trends here.
You can learn more about UV purification of metalworking fluids in our e-book: