Improving work environment and productivity at Stafsjö Valves
This is a case study at Stafsjö Valves that describes the long-term effects of a FluidWorker installation and the change to a new UV-stable cutting fluid from Quaker Houghton. The case describes both health and environmental as well as economic benefits.
Overview of problem
At Stafsjö Valves there are about 10 machine tools that perform drilling, grinding, turning and milling. In a multi-operations portal machine, Uniport 6000, they produce valve bodies and gates up to DN 1600.
Due to the open design, aerosols from cutting fluid spread easily in the production room, which places high demands on the fluid to be of high quality without hazardous chemical content or microorganisms. Stafsjö has been using fluids from a German supplier for some years and at regular intervals, bad odours arose from the machine's tanks due to bacteria growth in the cutting fluid. Likely reasons for the bacteria growth is the open and complex machine design, large surfaces in both machine and tanks as well as the different materials that are processed (e.g. 5.3105 EN that generates graphite in the fluid).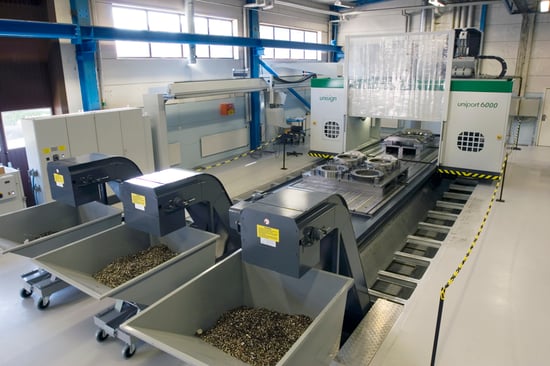 To manage the problem, Stafsjö had to replace the fluid as often as up to every 5-6 weeks and sometimes biocides were added according to the supplier's recommendation, but since parts of the staff experienced discomfort with irritation in the airways and eyes, there was a desire to find a better and safer solution. The biocide that previously had been used was reclassified by the European Chemicals Agency as allergenic and most likely carcinogenic so the decision was simple.

Although Stafsjö's main objective was to create a safer and better working environment, the change-outs also had a negative effect on production, which forced Stafsjö to make unnecessary breaks followed by costly disposal and fill-up.
The solution
A dedicated production technician took on the task to look into the problem. An air measurement confirmed that the oil content and dust were below the limits but bacteria in the fluid or the biocide in use might be the problem. An investigation was also made on how similar industries managed their coolants and he came in contact with FluidWorker as an alternative to control bacteria without toxic biocides.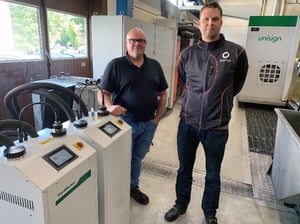 When the FluidWorker was taken into operation in November 2019, it was found that the existing fluid wasn´t UV compatible. Stafsjö was still interested in finding a sustainable solution and therefore agreed to introduce an alternative UV stable fluid from Quaker Houghton, called Hocut 4646. As the machine tank is large and complex, two FluidWorker 100 were installed in January 2020. In connection with the installation, the system was cleaned carefully by an external company and the new UV-stable liquid was taken into use.

The results
Stafsjö evaluated the FluidWorker installation and the new UV-stable fluid meanwhile Quaker Houghton supported with regular fluid analyses with good results. No biocides were added and despite a hot summer, the liquid maintained good quality without bad smell or production problems. The staff no longer experienced health discomforts because biocides were no longer used and the liquid did not contain bacteria.
From having changed the previous cutting fluid up to every five to six weeks, the cutting fluid was used for 35 weeks – about 6 times longer than before. This had a great effect on productivity, especially important when production is at high pressure.
In order to evaluate the full cost savings, Stafsjö made a thorough financial evaluation. It turned out to be much more positive than expected and the environmental investment Stafsjö made is estimated to have paid off in 5 months. In this analysis, all possible effects were included, even those that are usually easy to forget or neglect. On the other hand, the health and environmental benefits were not included in the financial analysis, something that Stafsjö values most.
The Benefits
In addition to the most important benefits, working environment and environmental impact, Stafsjö has summed up a significant financial saving. These include lower costs for cutting fluid concentrate and chemicals, higher production rates when no need to make stops and lower costs for waste and disposal. The savings calculation is summarized below.

Note: Social and environmental benefits have not been included in this calculation. Usually, increased motivation, higher efficiency among employees and less sick leave generate the greatest benefits. As described in the case above, Stafsjö decided to make a careful cleaning of the system before the installation. This wasn´t done for several years and was an initial investment as well (~ 9000 EUR). Depending on the need, Stafsjö will make one careful cleaning during the Christmas stop.
Facts about the application
| | |
| --- | --- |
| Machine manufacturer | Unisign |
| Operation | Multi-operations machine, Uniport 6000 |
| Fluid in use | Previously filled with coolant from a German manufacturer. In January the tank was filled with UV stable fluid, Hocut 4646 from Quaker Houghton |
| Tank Volume | 2500 Litres |
| Concentration | 6-7 % |
| Operating Temperature | 25-30°C |
| Example of processed materials: | Cast iron, nodular iron, several duplex and stainless steel grades, SMO254, Titanium and Hastelloy |
About Stafsjö Valves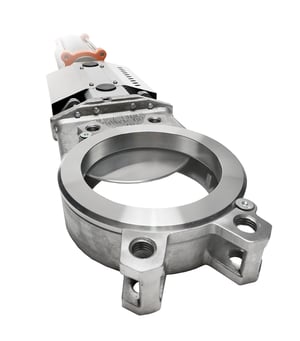 Stafsjö Valves is a globally leading supplier of knife gate solutions that develop, manufacture and distribute high performance shut-off valves designed for pulp and paper, mining, power and water industries and many others. The company has headquarter and production in Stavsjö, Sweden and has a yearly capacity to produce about 22.000 valves, in sizes from DN 50 - DN 1600.