At GKN - the metalworking fluid takes care of itself
GKN ePowertrain manufactures and sells components for power transmission to the automotive industry. In 2022, GKN carried out long-term tests of FluidWorker 150.
The production facility in Köping uses metalworking fluids in its processes, and with extensive competence, experience, and resources they can monitor the fluids in their own lab.
Correct concentration with automated processes
Optimal and even concentration in metalworking fluids is a prerequisite for high production quality, a safe working environment, and obtaining a fluid that lasts a long time. GKN's experience is that it is almost impossible to maintain a correct concentration and avoid bacterial growth, despite the fact that a lot of time and care is spent on manually maintaining the fluids.

FluidWorker 100 has been used for a few years with good results to keep process fluids bacteria-free. Now, GKN tested the new FluidWorker 150, which in addition measures and adjusts the most essential maintenance parameters, concentration, and fluid volume in the tank.
75% reduced consumption
GKN tested FluidWorker 150 in one of the company's soft lathes. In addition to a stable and precise concentration without manual work, GKN was able to make large cost savings by dramatically reducing the consumption of concentrate; from 100 liters to 25 liters per month. The total annual savings was estimated at around SEK 100,000. This did not include other benefits such as reduced tool wear.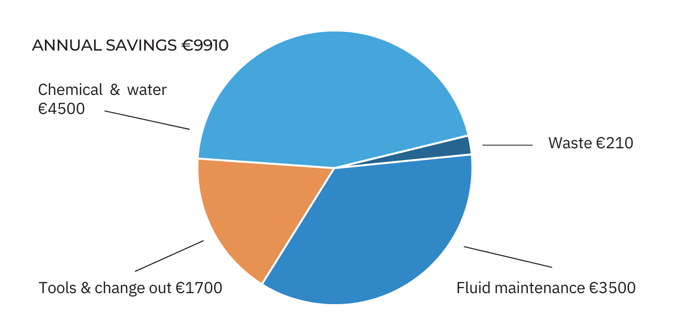 Results above expectation
Do you want to learn more about GKN's results and evaluation of FluidWorker 150? Download a summary of the GKN case here.