Circular economy in the metalworking industry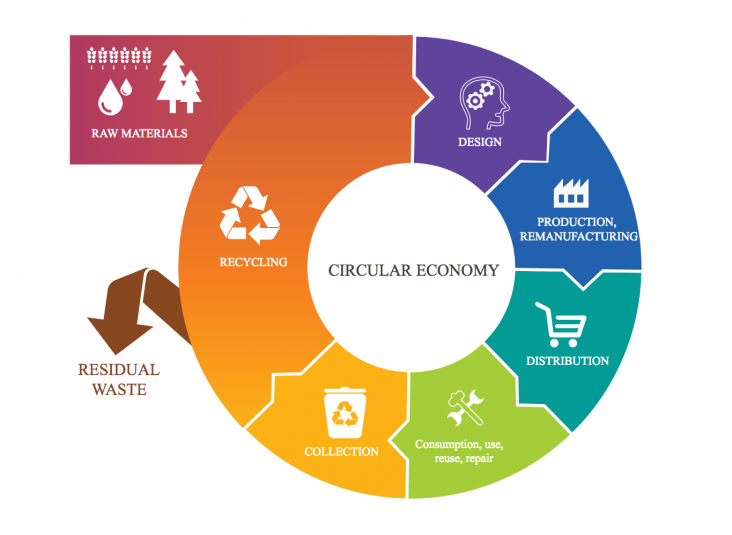 Circular Economy is a metaphoric expression that brings a valuable perspective to the global sustainability discussion. The wording brings an immediate understanding of our planets limited resources and the importance of reuse and recycling.
It has become common knowledge that commodities we all consume without reflection – like meat, coffee, clothes, battery's etc. – all require plenty of water, energy and transportation before reaching consumers. The only feasible path to reach and sustain a fair standard of living globally, must be to produce new goods mainly from resources available in the system, rather than from a shrinking supply of raw materials.
In this context, the machine industry owns its similar challenges. Productivity in metalworking rely on the use of significant amounts of optimized process fluids for cooling, lubrication, quenching, washing etc. The production, transportation, use and disposal of these fluids affect health & safety, productivity, environment and generates significant cost for the industry. Stricter legislation that reflect the urgent environmental perspectives force industry to limit emissions.
Process fluids are consumed both by the waste streams in production and by replacement caused by contamination and bacterial breakdown. To avoid fluid related costs and disrupted production, long-lasting fluids is an essential priority. Industries therefore have adopted rigorous fluid management, including use of filter systems and chemical and biological monitoring and control. The prevailing method to avoid bacterial degradation is to use toxins (biocides), both as part of the fluid formulations and as "tank-side" additions. The use of these substances are now in the process of being phased-out, both voluntarily and by regulations based on health and environmental concerns. We are now approaching a tipping-point, where health and sustainability perspectives strongly compete with economic interests, and the industry needs to act to find alternative and innovative solutions. Industry simply must find ways to treat, reuse and recycle process fluids without using hazardous chemicals.
Innovation and legislation drives the metalworking industry towards the vision of a Circular Economy
In Europe, the chemical legislation (REACH etc.) is a strong force that drives all stakeholders to find alternatives in the coming years. The EU Commission has recently launched a vision and plan to accelerate the transformation towards a Circular Economy. This initiative is high up on the agenda, and summarized in the document Circular Economy Action Plan. It presents a comprehensive list of technical, legislative and financial initiatives that will drive Europe towards the vision. One section titled "Enhancing circularity in a toxic-free environment" deals with strategies to reduce health and environmental risks related to the use of toxic chemicals. A related EU platform is the so-called "Best Available Technology" (BAT), and its purpose is to evaluate, prove and recommend useful innovative technologies that can enable the transformation.
Innovations will help resolve the conflict between economic and environmental interests. One such example is to replace toxic biocides, used in industrial process fluids, with systems using germicidal UV-light. Cost effective and proven products are available, and it is clear that the new technology can not only reduce harmful waste streams, but also reduce cost and enhance productivity.
The European Commission has approved FluidWorker as a good practice to support the transition to a circular economy. Read more about this here.
Read more
Read more about Europe's new Green Deal - the Chemicals Strategy towards a toxic-free environment.
All you need to know about UV light.