Eczema after working close to metalworking fluids?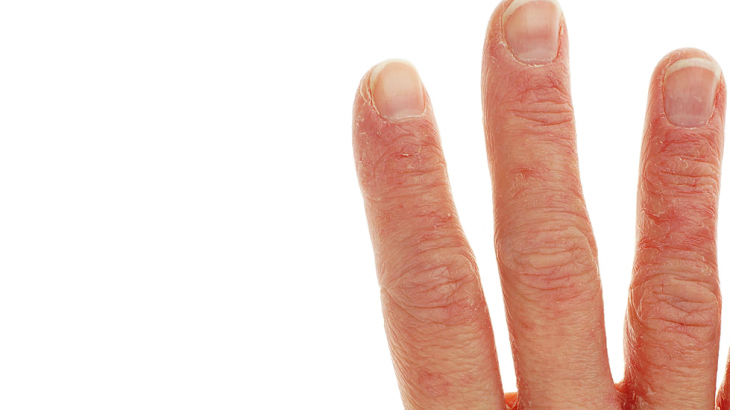 Eczema on hands and forearms is a common problem among operators. And it is actually not particularly strange.
Biocides are often to be found in the metalworking fluid's concentrate or are added afterwards. Basically all biocides are allergenic or at least irritating when in contact with the skin. Some formaldehyde releasers and isothiazolinones, are classified as strong or extremely strong contact allergens according to a study from the Swedish Work Environment Authority.
The same study shows that machine operators spend a fifth of their working hours in contact with fluids that contain substances banned within other areas, for example, in make-up.
In many cases, the biocides are added in very high concentrations, which, according to Prevent, a Swedish non-profit organization within the work environment area, produces a higher risk of allergies.
If you have eczema - act quickly!
If you start to experience eczema, it is important to deal with the problem at once so that you avoid developing an allergy. If you have become allergic, you will react to smaller amounts of the biocide than others. ECHA has drawn attention to this and has decided that from 1 June 2015, isothiazolinones and other skin sensitizers must be specified on safety data sheets at much lower levels than previously. This is so that those who become allergic can avoid the substance.
How can you protect yourself?
Make sure to get an overview of which biocides are used in the metalworking fluid concentrate and which are added. Once this has been clarified, measures can be taken. Processes can be changed and the worst biocides can be minimised.
If you nevertheless have to come into contact with allergens, make sure to use protective equipment!
Protective clothing
Not too tight

Wash frequently
Protective gloves
Use gloves suitable for your processes

If you use the gloves for more than 10 minutes - use cotton gloves inside them

Take the gloves off from time to time to air your hands

Make sure that the gloves are clean internally

Use plastic gloves instead of rubber, which can be allergenic

Do not use any barrier cream under the gloves

If you use disposable gloves - change them frequently

Do not wear any watches, jewellery or rings - they can destroy the glove

A good fit is important! Test out your gloves yourself!
Sources: Prevent and the Swedish Work Environment Authority
Sweden put the foot down
In the discussions surrounding the Biocidal Products Regulation, Sweden brought up the issue of eczema. The isothiazolinone MIT was considered to be such a powerful allergen that even though contact skin sensitization was not a criterion for banning the substance, Sweden believed that MIT should be a candidate for substitution.
What Sweden maintained was that metalworking fluid handling is not a sufficiently automated process, even when MIT is used in a professional way.
Test the safety
We have developed a checklist where you can clearly see what works well in your workplace - and where there are shortcomings that need to be addressed.