We are passionate about making a difference. No matter what our business cards say, we are all part of solving some of the most difficult sustainability challenges. Developers, marketers and purchasers in China, Sweden or Germany, we all know that what we do at work can make a difference not only today but also in the future.
Meet a few of our co-workers!
Ewelina Basiak-Klingspetz, Application specialist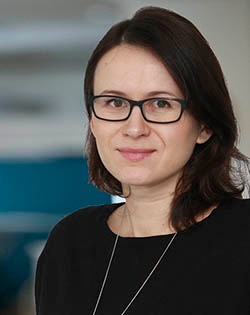 Describe your role at Wallenius Water.
– I work as an application specialist for providing water treatment systems for aquaculture. My task is to break down the overall system requirements to parameters used later for the mechanical design. Having a background as a chemical engineer with specialization in water treatment, I have a good understanding of the biological and chemical processes taking place in the system.
What's the most stimulating thing about working at Wallenius Water?
– I really like the fact that Wallenius Water works with sustainable water purification. For me it's important to work with something that makes the world a little bit better, and pure water is vital for all people. Wallenius Water is a good combination of a small and a big company. Cooperation with partners creates opportunity to undertake challenging projects while family-like atmosphere makes daily work even more fun.
Describe the challenges you are faced with in your daily work?
– Designing and operating recirculating aquaculture systems are challenging in many ways. One design has to meet different requirements and since it hosts living organisms, water quality fluctuations occur on a daily basis. I'm often involved in tracking down the reason of an inadequate water quality parameter by investigating mechanical problems, operational settings and procedures.
Ulf Arbeus, CEO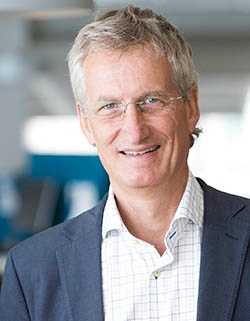 What's the most stimulating thing about working at Wallenius Water?
– It is inspiring to work in a company with a mission that is so obviously connected to the endeavor of achieving a sustainable planet. I am very attracted to the company's general strategic intent expressed by "Pioneering Sustainable Entrepreneurship". In our selected markets we strive to find effective solutions to important environmentally related unsolved problems. I assume this is a magnetic challenge for most engineers.
What is your view on product development, now and in the future, at Wallenius Water?
– To be successful in Pioneering Sustainable Entrepreneurship, we will develop higher level products and solutions that are reliable and high performing but also easily applied and installed. Our guiding challenge is to offer lower total cost of ownership and lower environmental impact than any alternative. I am sure we have the direction and ability to achieve this.
Miranda Jensen, Head of Environmental Management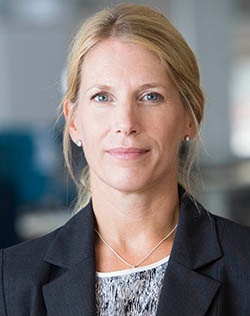 Describe your role at Wallenius Water.
– I make sure that we are working actively with environmental issues within our whole organization, like Eco-design within product development and ensuring training in environmental and sustainability development for employees. I'm also responsible for our certified Environment-and Quality management systems as well as coordinating the Group-wide environmental work within Soya Group.
What's the most stimulating thing about working at Wallenius Water?
– Working with tomorrow's sustainable solutions is very stimulating and developing for me. One of many positive things about my role is the variety of tasks and the opportunity to work with such competent people doing that I often learn something new and getting more dimensions on environmental and sustainability issues.
What's your view on sustainability, now and in the future, at Wallenius Water?
– We need to constantly work on reducing our own environmental impact in the design phase and sustainability awareness in our supply chain, and always be open to finding new business partners and collaborations.